TANZ | MODERNE | TANZ 
Festival 
2023
Spielplan

INTO THIN AIR / STRIPPED
Panama Pictures (Netherlands)
22. June 2023 | 20:00 Uhr

-

21:00 Uhr

20€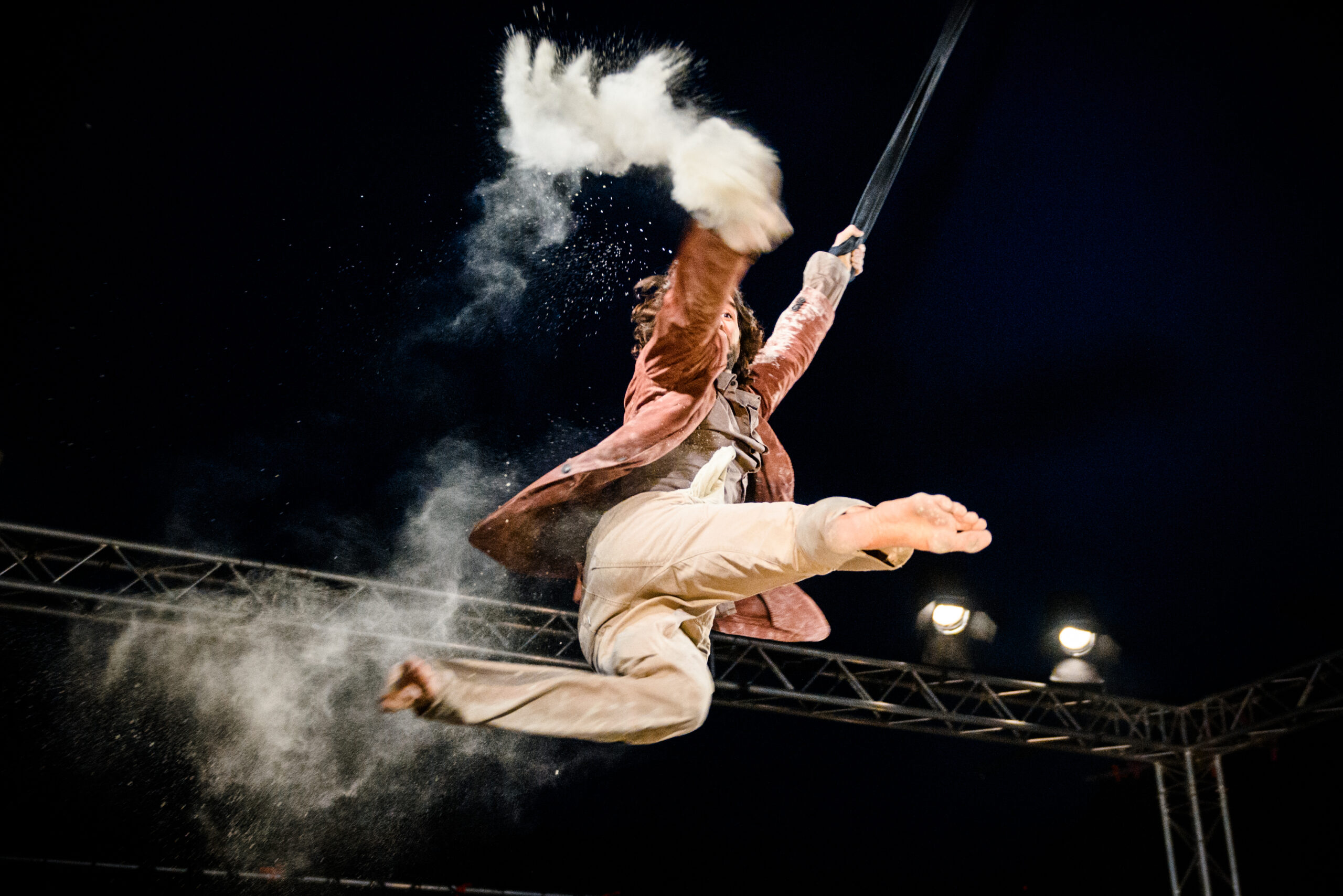 Panama Pictures' performances operate at the interface of dance and circus. The disciplines merge effortlessly – as in "Into Thin Air": stranded on a crooked staircase, three performers float in space. They rely on themselves and on each other. One moment they almost slide down the stairs, the next they regain their balance and explore the boundaries of this space without a foothold, until gravity is suspended and their bodies seemingly begin to float. This creates an exciting play of bodies and movement, and enters into a sophisticated dialogue with architectural backdrops. The objects and spaces created by permanent designer Sammy Van den Heuvel not only create the atmosphere, but also challenge, hinder and motivate the performers. Panama Pictures' dancers and acrobats push the envelope and make their physical sensations palpable to the audience.
Likewise in "Stripped," the intimate portrait of a man tracing his identity. In dialogue with himself and the audience, he uncovers layer after layer the different aspects of his character. The air belts serve as an extension of his body, a restriction, but also a step into another reality. The air belt artist Tarek Rammo was at the center of the artistic process. His personality, background and relationship to his discipline were the starting point for this creation.
Choreographer Pia Meuthen finds her inspiration in literature and philosophy and then translates it into poetic images. The performances are created through improvisation based on thorough research and are carried by the charismatic performers – a team of international dancers and circus artists of different ages and backgrounds. Panama Pictures is based in the Netherlands and is known both nationally and internationally. The company is a welcome guest at festivals in countries such as Germany, Poland, Russia, Norway, Spain, Indonesia, Malaysia and China.
IINTO THIN AIR
Choreography: Pia Meuthen
Dance/Acrobatics: Francesco Barba, Tarek Rammo, Jefta Tanate
Composition: Davide Bellotta, Strijbos & Van Rijswijk
Scenography: Sammy van den Heuvel
Costume: Sanne Reichert
Lighting: Bart Verzellenberg
Duration: 20 min
STRIPPED
Choreography: Pia Meuthen
Dance/Artistic: Tarek Rammo
dramaturgy: Angelique Willkie
Music: a.o. Strijbos & van Rijswijk
Costumes: Sanne Reichert
Lighting: Dominique Pollet
Duration: 20 min
Supported by the Performing Arts Fund NL, the province of Noord-Brabant and the municipality of 's-Hertogenbosch