TANZ | MODERNE | TANZ 
Festival 
2023
Spielplan

IN-PARADISE
Compagnie Ex-Nihilo (France)
18. June 2023 | 18:00 Uhr

-

19:00 Uhr

Eintritt frei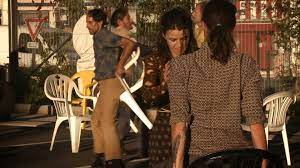 In-Paradise reflects a society in which we are constantly in action, ceaselessly constructing, undoing, repeating ourselves like a perpetuum out of an urge for frenetic occupation. We play with number and quantity, playing with stacking, the interlocking of stacks. In-Paradise is an invitation to travel, a search for balance, for complementarity, where everything wobbles, on the edge of rupture.
Anne Le Batard founded Ex Nihilo in 1994, after her career as a dancer in Brussels and Marseille. Nurtured by immersion and exploration of public space, she has developed her own signature. Jean-Antoine Bigot worked as a dancer in France and Belgium until he joined Compagnie Ex Nihilo in 2000. Since then he shares the artistic direction with Anne Le Batard. Together they have created more than 15 projects for Ex Nihilo. The concern of the company is on the one hand to connect the public and art and on the other hand to let new elements of art flow into dance. It is particularly dedicated to long-term projects, which they share with the respective audience through workshops and encounters. Since 2016, Ex Nihilo is considered an important partner of European creative projects for contemporary dance in special performance venues.
Concept and artistic direction: Anne Le Batard, Jean-Antoine Bigot.
Dance: Jean-Antoine Bigot, Lisa Da Boit, Tom Grand Mourcel, David Mazon, Corinne Potana, Rolando Rocha, Satya Roosens, Ji-in Gook
Space conception; Jean-Antoine Bigot
Costumes; Julia Didier
Music: Pascal Ferrari and Régis Boulard
Duration: 55 minutes
Coproduction KLAP Maison pour la danse in Marseille / L'Atelier 231 – Centre National des Arts de la Rue in Sotteville-lès-Rouen / Centre Chorégraphique National de Créteil et du Val-de-Marne – Compagnie Käfig / Le Pôle Arts de la Scène in Marseille
Supported by SACD/Auteurs d'espaces, ADAMI and SPEDIDAM, by Théâtre La passerelle – scène nationale de Gap et des Alpes du Sud / Coopérative de Rue et de Cirque – 2r2c in Paris
Special thanks to La Cité des Arts de la Rue in Marseille / Générik Vapeur / Lieux Publics – Centre national de création en espace public / La Friche de la Belle de Mai
With the kind support of the Institut Français and the French Ministry of Culture.